Friday, April 28, 2006
Because it was such fun
I signed up for
Wollfee 4
.
And as I'm really greedy for the
One Skein Secret Pal Exchange
as well. I don't like the book that much, but it's not necessary to use a pattern from the book. You can also create your own ideas. Hach, and then there ist also
Secret Pal 8
, but - no - that's too much - I hope I won't loose my self-control.
Tuesday, April 25, 2006
Self Portrait Tuesday
Today there is a picture of my leg, not to show it's gracefulness but the
Paisley pattern
of my trousers. I especially like the Paisley pattern, since ever. My mum used to wear a Paisley miniskirt in the 70ties which I adored. I like this pattern in all combination of colours, the main thing is that it's Paisley. Men seem to have an advantage as you can easily find wonderful ties and even suspenders everywhere.
I myself only had two pairs of Paisley trousers so far in my life. But just now I discovered that there are even
Birkenstocks
in Paisley. There is still hope.
The Tuesday's Knitting Question - week 17/2006
Man on Needles - how many men do you know who are able to knit? Or are there men who are reading this? Have courage!
I don't know men who are able to knit and I have never seen a man knitting.
Sunday, April 23, 2006
Funny
yesterday I started knitting the
Hedera
socks and then I discovered this knitalong:
Of course, I joined immediately.
Saturday, April 22, 2006
Hedera
I did not have to search for a new pattern at all.
Petra
recommended the pattern
Hedera
in the new knitty. I had already seen it but I thought it would be too difficult. But there are really only four rows which I had to translate.
I just started and it looks like that:
Hm, I think everything ist allright, but somehow it looks strange. Perhaps only one colour would be better. We'll see. I will continue knitting for now - the third row ist always really hard.
We don't want Nazis
Yesterday on TV (the background was the attack in Potsdam) Mr. Schäuble was shown with the words that 'blond and blue-eyed human beings sometimes are beaten up too'.
I was horrified.
The nazis try to get into contact to our kids, e.g. on the schoolyards with the help of music. Therefore the ZSK (Arbeitsgemeinschaft Rechstextremismus & Gewalt - they are against right-wing extremism and violence) has invented the initiative "Kein Bock auf Nazis!"
In the video you can see for example, 'Culcha Candela', 'Die toten Hosen' and 'Bela B.'
*Here*
is the site of the initiative.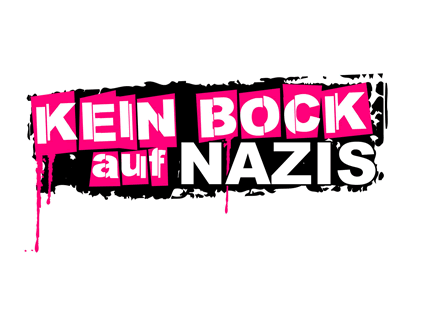 Friday, April 21, 2006
My sockapaloooza socks
are finished.
Jaywalkers made of Opal 'Rose', a very nice combination of my pal's favourite colours.
This will be the last pair of Jaywalker for now, I'm going to search for another pattern.
A really awful situation, I don't know what to knit but I know that it should be a new pattern. Grrrr.
I think I will try out a few new things during the next days and then I will choose the one which makes the most fun.
Tuesday, April 18, 2006
Self Portrait Tuesday
now: grey and bleak. bad dream.
The Tuesday's Knitting Question - week 16/2006
For which target group do you like knitting and why?
a) for the family
b) for team mates and friends
c) for charity bazaars or raffles
d) for yourself
Hm, I like knitting for all of them, when I know that it's a pleasure for the gifted person.
Unfortunately, the members of my family don't like socks that much. And except of
Lucia
- I should change this soon - they already have one pair. And I don't want to go on their nerves.
Well, my Dad is still waiting for a longer shank for his socks and he wants to have a scarf for his birthday. So I don't have a reason to complain. My mum was craving for the Kauni-scarves. And Oz still wants to have thinner socks because he always gets hot feet in the socks made of silk-wool. Perhaps cotton would be better or a thinner sock-wool. I'm still poring.
The question was asked by the
Wollschaf
.
Friday, April 14, 2006
Eating eggs
can cause terrific results.
The children not only try to hop on the sofa they even try to fly.
Sofa:
Zoom:
Start:
Flight:
Landing:
Yes, they are still alive. They just moved along to our rabbit. Uffz.
Good Friday
we are mostly colouring the eggs.
They are so nice that it will be difficult to peel them. Fortunately some of them did not really survive cooking so that we were able to eat those without a guilty conscience. I wish you all Happy Easter with big eggs.
Tuesday, April 11, 2006
Self Portrait Tuesday
Because it fits to the Tuesday's Knitting Question of today and because I have mentioned my grandmother a few times before:
My grandmother and I, it seems as if it's the right season (easter-bunny).
It was 1973 and I myself had chosen the wallpaper.
The Tuesday's Knitting Question - week 15/2006
When did you begin knitting? And why?
Hm, actually I started with crochet but knitting followed soon after.
I learned it from my gandmother when I was about nine or ten years old. My grandmother was very interested in teaching these handcrafts things. I still can remember that she once mentioned that sewing a knob would be an existentiel skill. She was a dressmaker and handwork was important for her. For me it was simply fun.
The question was asked by the
Wollschaf
.
Monday, April 10, 2006
Thank you!
Dear
Kristin
, I was very glad about this:
Lorna Lace's (boah, I would not have bought them) and they are purple, very nice. And stitch markers.
These fine things I received from my wool-princess. Thank you so much. :)
Dyed Yarn
My wool-princess
Kristin
told me how to dye yarn. I could not show it until now because she would perhaps have discovered me.
At first it was very diffult to get the colour which is usually used for colouring easter eggs. Now I have already bought a few packages for my stock.
I took normal white Regia wool for socks and put it about an hour in vinegar:
After that I wrung it and prepared the colours. I could not stop myself and used all of them.
I must have done something wrong, perhaps there was still too much vinegar in the wool, but the wool was not totally coloured
I simply turned it around and covered the yarn with some more colour.
Then I put it into the oven and afterwards it looked like that:
Here the dry yarn:
You can still see a few white points, next time I will wrung out the vinegar more carefully and I will take more colour.
And out of this ball
I mades these Jaywalker for Kristin:
A lot of thanks, Kristin, for the instruction.
Dyeing was great fun and it was exciting to knit the yarn.
Thursday, April 06, 2006
Exposed
is my woolfairy-identity.
My wool-princess was
Kristin
and it was a pleasure to spoil her.
As she has already received the last package I can show a picture of the finished Kauni-Cozy. Washing and spanning was easy.
and
Öhöm, I'm a little proud that I have done it. And I'm happy that knitting a pattern is fun.
Tuesday, April 04, 2006
Self Portrait Tuesday
Tja, Oz lately mentioned that it is a little vain putting the own nose in front of the objective every week.
Let me change this: sometimes I'm Daisy. :)
The Tuesday's Knitting Question - week 14/2006
Very often I'm thinking of my knitting while doing to household chores. And soemtimes I sit down on the sofa and start knitting. What about you?
During the day I usually - except of the weekend - do not knit.
Knitting is reserved for the late afternoon and for the evening.
And that's no problem, I don't fell bad about that, because the things I do over the day are also fun or they are simply more important then knitting.
The question was asked by the
Wollschaf
.
Sunday, April 02, 2006
Cozy
made of Kauni-wool from my dear wool-fairy
Uta
has just been finished.
It looks shaggy somehow. I'm going tho wash and span it. Hope it works.
I would like to
introduce a
scarf
I knitted for my secret pal
Audrey
It's made of two kinds of microfiber. The smooth green is covered by the tousled pink. Very soft with fringes and garnishments.